Mobile Responsive Template Layout Graphic Guidelines
(FOR OLD VERSION TEMPLATE GRAPHIC GUIDELINES CLICK HERE)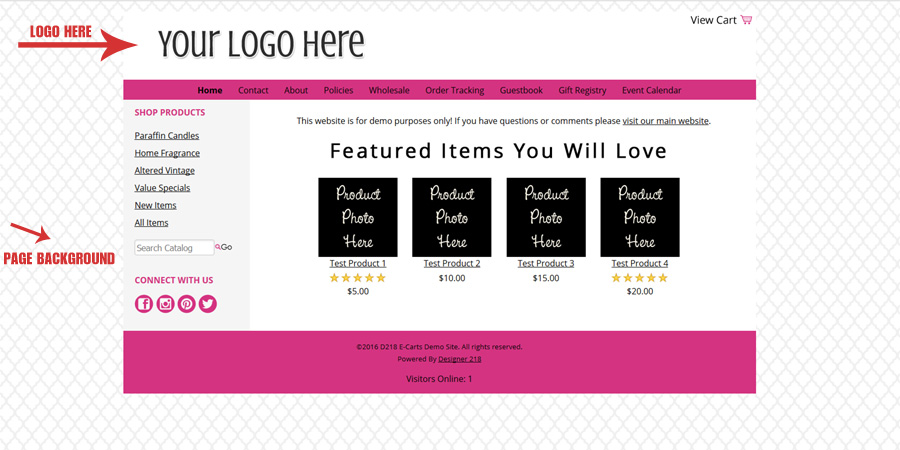 UPLOADING LOGO AND PAGE BACKGROUND
Our built in mobile responsive layouts are semi custom. You can upload your own logo and also upload your own page background. If you do not upload a page background the default one will show. Text will show in place of your logo if you do not upload a logo.
To change the page background from default you will need a seamless tile background image. It will need to be a .gif image and it needs to be named pagebg.gif (exactly) 100x100 or up to 400x400 pixels is the best size for the seamless tile background image. Once you have your image ready gologin to your store admin and under the website tab go to images and Image List and upload it. It will now replace the default background. You may need to refresh your page to see the new background you have uploaded.
To upload your logo login to your store admin and go to the Website Tab then images then the Catalog Images section and update and then upload your logo and mobile logo in their spaces. Best size for logo is 500x100 pixels or 500x200 pixels. (this size is fine for mobile logo as well since it will auto resize so you can upload the same image for regular and mobile logo) A transparent logo is best but not required. The logo does not have to have a specific name.
MAKING MODIFICATIONS TO BUILT IN TEMPLATES
The semi custom templates only allow for background and logo changes. If you want other changes such as side bar color or top and bottom colors please contact us for help. If you would like any of the built in layouts modified to use your exact business colors please contact us with your color codes or color samples and the template you like and we can make the modifications for you.
NOTE: If you have a prim or country website and you want to utilize webset graphics with topper, background, image buttons etc please contact us for a specific template layout that works with those websets.
ADDING SOCIAL MEDIA ICONS TO BUILD IN TEMPLATES
If you would like the social media icons for any of the colors of our built in templates please CLICK HERE to download the icon set in the color of your choice.
When you are ready to upload your social media icons go to your store admin and go to Site Settings and upload the icons in the site message content box. You can also link them to your social media from the same place once you have uploaded them. You can also add any other text to this box that you want to show on the side bar of your site such has business hours or turn around times etc.
If at any time you need any help please contact us and we will be glad to help you.